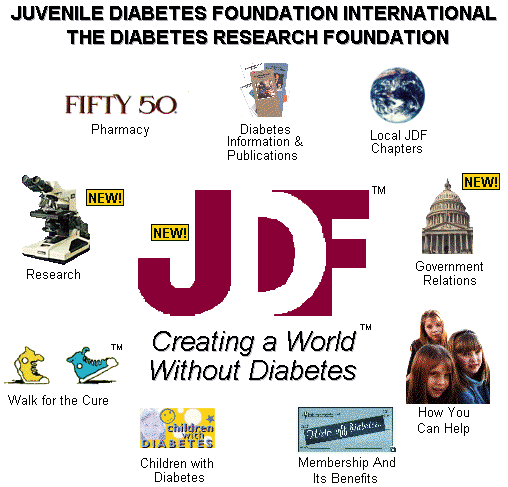 The Juvenile Diabetes Foundation is a not-for-profit, voluntary health agency whose mission is to support and fund research to find a cure for diabetes and its complications. JDF gives more money directly to diabetes research than any other private health agency in the world. We will be known as the people who cured diabetes.

"The information provided by the Juvenile Diabetes Foundation International should not take the place of advice from your own health-care provider. Be sure to check with your doctor about changes in your treatment plan."
Note About Browsers
JDF pages look best when viewed with Netscape Navigator
with the font set to Arial or Helvetica 10. We make use of advanced
HTML 3.0 features and Netscape enhancements.
Copyright © 1996 Juvenile Diabetes Foundation International. ALL RIGHTS RESERVED.
The BETA SOCIETY, COUNTDOWN, CREATING A WORLD WITHOUT DIABETES, THE DIABETES RESEARCH FOUNDATION, JDF, JUVENILE DIABETES FOUNDATION INTERNATIONAL, THE ONLY REMEDY IS A CURE, WALK FOR THE CURE, 1-800-JDF-CURE and 1-800-WALK-JDF are Trademarks and Service marks of the Juvenile Diabetes Foundation International.
E-mail comments to info@jdfcure.com
Juvenile Diabetes Foundation
The Diabetes Research Foundation
120 Wall Street
New York, NY 10005-4001
800-JDF-CURE
212-785-9500
Fax 212-785-9595